On a scale of 1-10 where 1 represents affordable mobile phones and 10 is the most expensive, these devices hit 11. The chances may be that we'll never own one of these mobile marvels but we can still dream!
5. Nokia 8800 Gold Edition – $2,700
Costing a mere $2,700, this Nokia 8800 is made of 24K gold. The features are the same as a standard 8800, except for a rather shiny special edition box and charging dock.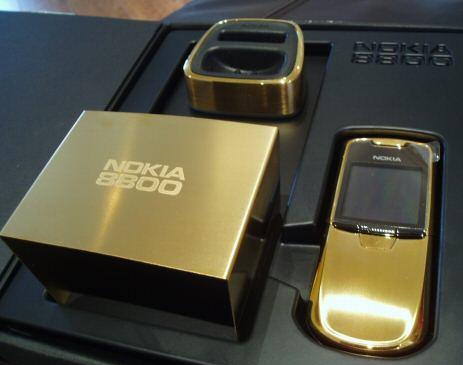 4. Diamond Nokia E71  – $12,685
Described as the ultimate workhorse, the Diamond Nokia E71 has been overhauled with 3.0 ct V51 diamonds. Who says you can't shine at work!
3. Diamond Nokia N95 – $42,918
Only 25 of these have been made. If you're lucky enough to get your hands on one, than you'll be the proud owner of an 18 carat solid gold mobile phone, encrusted with 658 diamonds.
2. Nokia 8800 Arte with pink diamonds – $131,650
An ultimate birthday present for the lucky lady in your life, this solid 18k white gold Nokia 8800 is embellished with over 680 pink and white cut diamonds totalling over 21.5 carats. Designer Peter Aloisson must have been in a giving mood when he designed this.
1. Nokia 8800 Supreme – $156,000
If you have a cool $156,000 dollars to spare than you could be the proud owner of the Nokia Supreme, designed and crafted by Stuart Hughes.
Approximately 1225 individually set sparkling gems are accompanied by 12.5K of Pink diamonds. That's not even mentioning the solid hallmarked platinum handmade veneers & 8 platinum screws.