It may be named after a 10th-century Danish king with a passion for tooth-staining blueberries, but Bluetooth is now very much a 21st century technology. Just look at headsets. Ten years ago they made you look like a Trekkie and gave you little more than fifteen minutes of talk time. But a decade is a lifetime in the evolution of a product. To see just how much headsets have changed we spoke to Product Program Manager, Olli-Pekka Ahokas, a man involved with Nokia Bluetooth headset development since the very beginning. Here's the first part of his pictorial history.
2002 – Nokia HDW-1
This was Nokia's first ever Bluetooth headset. I started to concept it during the fall of 1997. It was based on a Nokia proprietary LPRF chipset, which during the development became a Bluetooth standard. Originally HDW-1 was a concept program only. However, due to growing interest it was accepted as a product program in September 1998. It was a long and challenging process and unfortunately, it was cancelled just before going into mass production in August 2002. Nonetheless it served as a platform for the development of BT audio, use cases and user experience and is a crucial part of Nokia's Bluetooth history.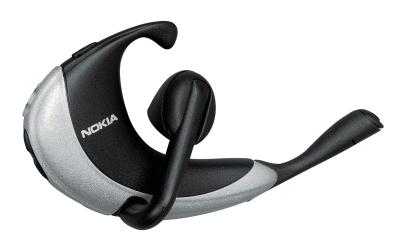 2003 – Nokia HDW-2
This was the first Nokia headset, which was made in real volumes and sold to end-users.  For Nokia customers this was how the story of Bluetooth headsets began. It hit the shelves in April and a year or so later it was replaced with the engine colored update, the HDW-3.
2004 – Nokia HS-4W
Launched in August 2004, The HS-4W was one of the first Nokia headsets with a distinct Nokia design. It was based upon a very popular HS-5 wired headset and paved the way for the more style conscious headsets that followed. It also pushed the boundaries of headset technology further and was one of the first headsets to use Lithium-Polymer batteries for their lightness and energy density
2006 – Nokia HS-12W
Launched in March, HS-12W was the first ever stereo BT headset from Nokia. It was also the first ever Nokia product to support A2DP profile. Even today the specs are very impressive. It has BT HS, HFP, A2DP and AVRCP profiles, FM RDS radio, caller ID, track name, MP3 direct streaming, radio station names, indications from SMS, missed calls and a clock synchronized from the phone. All that wrapped into stainless steel cover.
2006 – Nokia BH-800
This was Nokia's first premium category Bluetooth headset. It made a statement in both terms of design and size. The original design was very different, but we were asked to make it smaller. So we took an earlier concept design and reduced it by innovating Printed Wireless Board technology. The result was so successful that its engine was used as the basis for two other headsets. One of the BH-800 variants was also the first ever BT headset included, with the Nokia 8800SE, as a phone inbox accessory. It was also the first Bluetooth mono headset to make use of a carry strap.
Any of these look familiar? Or are you one of the incredible 95% of mobile device owners yet to enjoy the Bluetooth headset experience? If so, keep an eye out for Part 2 of Olli-Pekka's history to see how the amazing evolution has continued until the present day.