Microsoft Surface
October 12, 2022
Introducing new Surface devices that take the Windows PC into the next era of computing
Today, we shared our vision for the next era of the Windows PC, where the PC and the cloud intersect and tap into innovative AI technology that unlocks new experiences. So that each of us can participate, be seen, heard and express our creativity.
For nearly 40 years, the Windows PC has held a place at the center of our lives. It's contributed to new levels of productivity, kept us all connected, and unlocked our creativity and potential through innovations we couldn't have imagined when we first began this journey. Just think about how far we've come in how people interact with it. From the very first text-based keyboard input to the precision of point and click with the mouse, up to today, where touch, voice, pen and gestures all help people use the Windows PC more naturally and intuitively. From its inception, Surface has been a catalyst for that change.
For the past 10 years, Surface has challenged the convention of the PC – through innovative form factors and new interaction models that transformed what the industry expects from a laptop, desktop, tablet and mobile productivity device. More importantly, Surface and Windows helped remove barriers, empowering each of us to connect, create, work, learn and play in ways that are new and natural. Bringing the best of Microsoft together on a single device.
As a team, we're proud of where we've been, but our focus is on where we're going. With Windows 11, new Surface products and new apps and experiences like Microsoft Designer and Image Creator, today we take the next step on our journey.
Surface Pro began as the first of its category – A tablet that can replace your laptop, offering touch, ink, a full-size precision touchpad, and a productive keyboard finely crafted and satisfying to touch. Over the years it's been refined, tuned and perfected. In that same time, we've seen the category take off. Today, you don't have to go far to see competing interpretations. We take great pride in our ability to inspire and push the industry forward. Still, there's a reason why Surface Pro remains the 2-in-1 to beat, and it comes back to the original vision the team shared a decade ago that merged the benefits of a powerful laptop, versatile tablet and ink-ready studio. Today, Surface Pro 9 raises the bar again.
Surface Pro 9 is crafted with high-grade aluminum casing in a new set of beautiful, anodized colors1. On one side you see the iconic built-in kickstand and on the other a gorgeous 13-inch PixelSense display.
A Surface display is more than a sheet of glass. It's a canvas, a journal, a notepad, an editing bay and a cinema screen. It's a vibrant sheet of pixels that transforms into the combination of experiences that keep you informed, productive, entertained and connected. With incredible levels of quality, performance and versatility, the edge-to-edge display on Surface Pro 9 is stunning. With up to 120Hz refresh rate and a wide range of colors, visual stories are true to life. Underneath the display is an HD camera, Omnisonic speakers, directional microphones and our custom G6 chip that takes inking to the next level with tactile signals. Combined with the new Ink Focus in Microsoft OneNote, or the new GoodNotes app coming in early 2023 to Windows 11, digital ink on the screen feels like writing with pen and paper.
Beneath the iconic exterior, Surface Pro has always been about performance. Surface Pro 9 offers a choice between processors – 12th Gen Intel® Core processor built on the Intel® Evo™ platform2 with Thunderbolt™ 4, or Microsoft SQ®3 powered by Qualcomm Snapdragon with 5G connectivity3. In either case, you're getting the same iconic Surface Pro form, great performance, all-day battery life4 and Secured-core capabilities. The choice comes down to the combination of scenarios that are most critical to you and how you work, create and connect.
The latest 12th Gen Intel® Core™ processor offers incredible power and performance. Verified as an Intel® Evo™ device5, it's ready for real-world multi-tasking, full desktop productivity, all-day battery life and intense workloads – with up to 50% more performance than Surface Pro 8. Thunderbolt™ 4 enables rapid data transfer, docking to multiple 4K displays, or supporting an eGPU set-up.
The Microsoft SQ®3 processor provides fast 5G connectivity3, and ultra-long battery life – up to 19 hours4. Additionally, it unlocks new AI features made possible through an entirely new Neural Processing Unit (NPU) that transforms how you connect with the people in your life. Capable of more than 15 trillion calculations per second, the NPU in Surface Pro 9 drives new experiences with Windows Studio effects.
To help us celebrate 10 years of Surface, we've partnered with London-based global design house "Liberty" to bring art and technology together to create a special-edition Surface Pro keyboard and laser-etched Surface Pro 9 with an exclusive pattern in a vibrant blue floral inspired by the Windows 11 Bloom – available in select markets, only at Liberty and Microsoft Stores while supplies last. The elegantly patterned engraving and matching keyboard stand out, and the pair represents something special that we can't wait for you to see for yourself – pre-order today!
Seven years ago, we applied our learnings and experiences from Surface Pro to a more conventional device category, the laptop. Almost immediately, Surface Laptop became our most loved Surface. In the years since, it's continued to earn this position. Whether creating, communicating or connecting, people delight in how Surface Laptop helps them immediately get into their flow. From the effortless opening and fast log-in with Windows Hello, to the touchscreen, precision touchpad and perfect typing experience, Surface Laptop 5 offers the craftsmanship, comfort and capabilities to jump in and produce your best work.
Surface Laptop 5 is sleek and elegant, providing all-day battery life4 as our customers have come to appreciate and expect. It now offers the latest 12th Gen Intel® Core™ processor, Thunderbolt™ 4 and is co-engineered and verified as an Intel® Evo™ device5 for the first time, making the Surface Laptop 5 over 50% more powerful than its predecessor.
Surface Laptop 5's signature 3:2 PixelSense display comes in 13.5-inch or 15-inch options, each with Dolby Vision IQ, giving you the best possible picture, with vivid colors and sharp contrast in any lighting conditions. The speakers are perfectly tuned and offer Dolby Atmos 3D spatial processing6 to fully immerse you in your content. The front-facing HD camera and Studio Microphones capture you in true-to-life fashion, even adjusting camera exposure in any lighting environment.
From new anodized aluminum colors1 to new capabilities, Surface Laptop 5 gives customers more of what they've always loved about this product.
ln the fall of 2016 we unveiled the first Surface Studio. It was unlike anything else, and instantly captured people's imaginations. With the large and vibrant 28-inch 3:2 display, and stylish form, this product turned heads. When we showed how the Zero Gravity Hinge could transform the display into the ultimate creative canvas, people were stunned. Even today, Surface Studio has the unique ability to draw people in.
As work environments have evolved in recent years, we've seen strong ongoing demand for this elegant, powerful and versatile product. As we meet that demand, we've rearchitected our Surface Studio processing engine utilizing an updated Intel® Core™ i7 H Series processor, with up to 50% faster CPU performance. We've designed NVIDIA GeForce RTX 3060 discrete graphics to double the graphics performance, achieving the most realistic ray-traced graphics when you craft 3D designs or render models. We've enhanced and modernized the display, cameras, Studio Mics and ports – including USB-C with Thunderbolt 4. With Windows 11, Surface Studio 2+ also meets Secured-core PC standards.
Meet Microsoft Designer and Image Creator
Microsoft Designer is a new graphic design app in Microsoft 365. It's powered by best-in-class AI, including DALL∙E 2, and it's engineered to bring your creative visions to life. This is an amazing example of the power of cloud-based AI and what it means expressed through an application. Designer helps you create from your own content or ideas and makes it easy to design social media posts, invitations and much more, fast. It also automatically helps you get a variety of unique images and designs that are generated just for you. I'm so excited for this app, it's going to be a game changer for me personally.
The integration of Microsoft AI and DALL∙E 2 in our new Microsoft Designer app is an amazing example of AI assistance blurring the lines between the platform, the device and the cloud all so you can express yourself even better. Saving time and improving creative outcomes, regardless of your level of expertise.
We don't believe technology of this type should be limited to a single app. That's why we'll soon be bringing these Microsoft Creator tools – including DALL∙E 2 integration – into Bing and Edge with Image Creator. So you can use your words, not just to search, but to create.
To learn more about Microsoft Designer and other new creator and AI tools in Microsoft 365 and Microsoft Edge and Bing announced today, please visit this blog post by Liat Ben-Zur.
Making your everyday easier with Windows 11
Since its release in September, we're energized by the feedback and response to the Windows 11 2022 Update. Your feedback is what drives us. We love hearing how you're enjoying new features the team created for you, and how they're helping to make your everyday easier on the PC.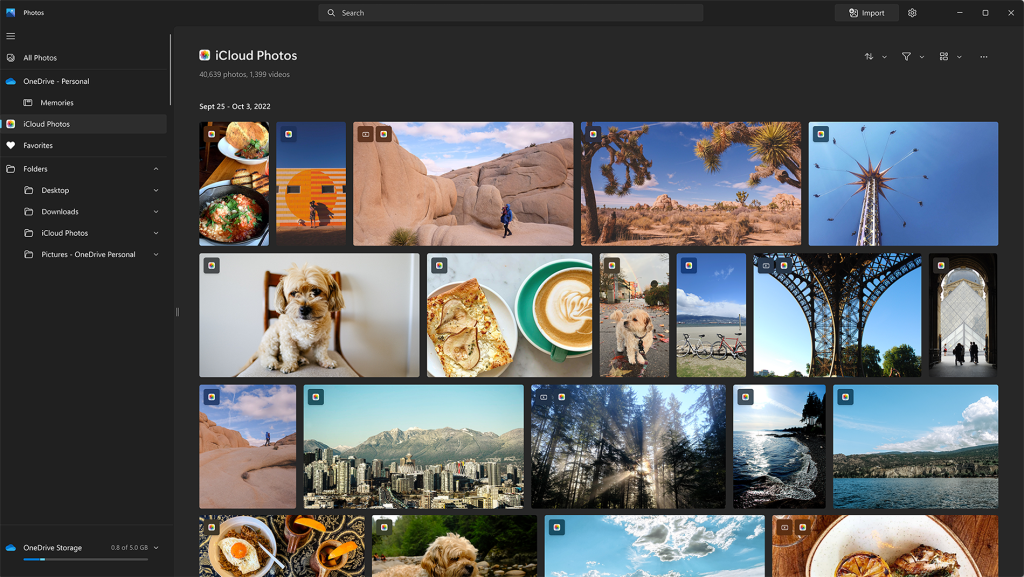 Today, we shared steps we're taking to remove barriers and make it more seamless to connect to what matters across platforms and devices. We're excited to announce that we're making it easier than ever for you to access your iPhone photos and videos, and the entertainment you love from Apple on Xbox consoles and Windows devices. Through a new integration with iCloud and the Photos app in Windows 11, you will be able to access all your photos and videos from your iPhone right in the Photos app. It's seamless, just install the iCloud for Windows app from the Microsoft Store and choose to sync your iCloud Photos. Available to Windows Insiders beginning today, this experience will become available to all customers on Windows 11 in November.
The iCloud photos integration is an incredible game changer, I love that my daughter Bella is so excited for this. It literally removes a barrier for her, now she'll easily be able to access all her pictures from iCloud right on her Windows PC.
We also want to help you access the entertainment you love more easily. The Apple TV app is already on Xbox consoles, and starting today, Apple Music will be available there as well. We're also happy to announce that Apple Music and the Apple TV app will launch on Windows next year. Previews of these apps will be available in the Microsoft Store later this year. We can't wait for you to be able to listen to your favorite music, playlists and more from Apple Music, and watch your favorite Apple TV+ series and movies, right on your Windows PC.
Integrations like these are just one way we're making Windows available to more people with great experiences you love across every device you use.
New accessories to complete the experience
From the Xbox Adaptive Controller to the Surface Adaptive Kit, to new accessibility features built into Windows 11, we've been on a journey to live our company mission of empowering everyone to achieve more. To do this, we've made inclusivity a key ingredient in our approach to product-making. This is a long-term journey, but we're pleased to be doing what we can to solve challenges for the more than 1 billion people in the world with a disability. Earlier this year, we were proud to announce Microsoft Adaptive Accessories.
Each part of this adaptive set is designed in partnership with the disability community to empower people who may have difficulty using a traditional mouse and keyboard. These adaptive accessories exist to address common pain points that can prevent people from getting the most out of their PC.
Today we're announcing that the Microsoft Adaptive Accessories will be available starting Oct. 25 in select markets. In addition, business and education customers will be able 3D print adaptive grips from Shapeways7 for Microsoft Business Pen and Microsoft Classroom Pen 2. Visit Microsoft.com to learn more.
Additionally, we're pleased to announce two new accessories to improve the hybrid meeting experience: Microsoft Presenter+, and Microsoft Audio Dock.
Microsoft Presenter+
This Teams-enabled remote is a powerful presentation tool, helping to effortlessly advance slides, mute/unmute, direct your audience's attention with the screen pointer, and quickly join a meeting whether in the room, over Microsoft Teams, or other meeting apps. Connected via Bluetooth and with customizable controls8, Microsoft Presenter+ is the first presentation control to be certified for Microsoft Teams. It keeps you involved and in control. A long press of the Teams button will raise or lower your hand, so you can more easily engage with other participants.
Microsoft Audio Dock
With four different ports (HDMI, USB-C x2, and USB-A) and a pass-through PC charger, the Microsoft Audio Dock can reduce desktop clutter while upgrading your audio for meetings, music and more. Built-in Omnisonic speakers deliver premium sound, and with dual forward-facing, noise-reducing microphones and integrated mute control, you'll hear and be heard clearly in your next online meeting.
The next wave of computing is here
 We see so much more opportunity on the horizon. Opportunity to innovate in ways that solve challenges, push boundaries, inspire and empower. It starts with Windows 11 and the new Surface products we announced today, but that's just the beginning.
With rich AI on the edge and with DALL∙E 2 in Designer and Image Creator, we showed you AI in the cloud in service of you. This is when the Windows PC and Azure come together as one, enabling you to take your ideas and creativity from your mind and heart into the world. These unmatched experiences mark the beginning of this new chapter for computing.
We believe the most magical experiences are those that bring technology and people together. Thank you for joining us on this journey, and we continue to look forward to what you'll achieve with these amazing products.
Please visit Microsoft.com, Bestbuy.com, our Surface for Business page, or our IT Pro Blog to learn more about all of today's new products
1 Colors available on selected models only. Available colors, sizes, finishes and processors may vary by store, market, and configuration.
2 Surface Pro 9 with 12th Gen Intel® Core™ processors and storage of 256GB and above are built on the Intel® Evo™ platform.
3 5G not available in all areas; compatibility and performance depends on carrier network, plan and other factors. See carrier for details and pricing.
4 Battery life varies significantly based on usage, network and feature configuration, signal strength, settings and other factors. See https://aka.ms/SurfaceBatteryPerformance for details.
5 Intel® Evo™ devices are verified, measured and tested against a premium specification and Key Experience Indicators as part of Intel's innovation program Project Athena. Individual system results may vary. See www.intel.com/performance-evo for details.
6 Requires Dolby Atmos® encoded content and audio.
7 3D print services provided and warrantied exclusively by Shapeways, Inc. subject to Shapeways Sales Terms and Conditions and Warranty at: https://aka.ms/ShapewaysTermsConditions. Microsoft is not responsible for their performance or compliance with applicable regulatory, compliance, safety or any other requirements.
8 Customizable controls available exclusively on Windows 10 and 11 devices. Use the Microsoft Accessory Center to customize Microsoft Presenter + and set preferences for haptic feedback.