April 6, 2023
Introducing the "Browser essentials" feature in Microsoft Edge
You expect your browser to be fast, efficient, and safe every time you browse. Microsoft Edge has been leading in performance and security innovation with features like Sleeping Tabs, Efficiency Mode, Startup Boost and the highest rated protection against phishing and malware attacks.
You should never have to sacrifice safety or performance when you're using a web browser. However, we know it can be difficult to understand whether a browser is really giving you a great experience.
For that reason, we've improved upon the previous Performance Hub and created Browser essentials to reveal how Microsoft Edge's performance and security features make your everyday browsing fast, efficient, and safe.
Browser essentials ships to Canary users and will roll out to a portion of Dev channel users beginning with Edge 112.
Performance
When you click on the Browser essentials icon from the toolbar, you'll see the status of some of Edge's key performance features – Efficiency Mode, Sleeping Tabs, and the Performance Detector.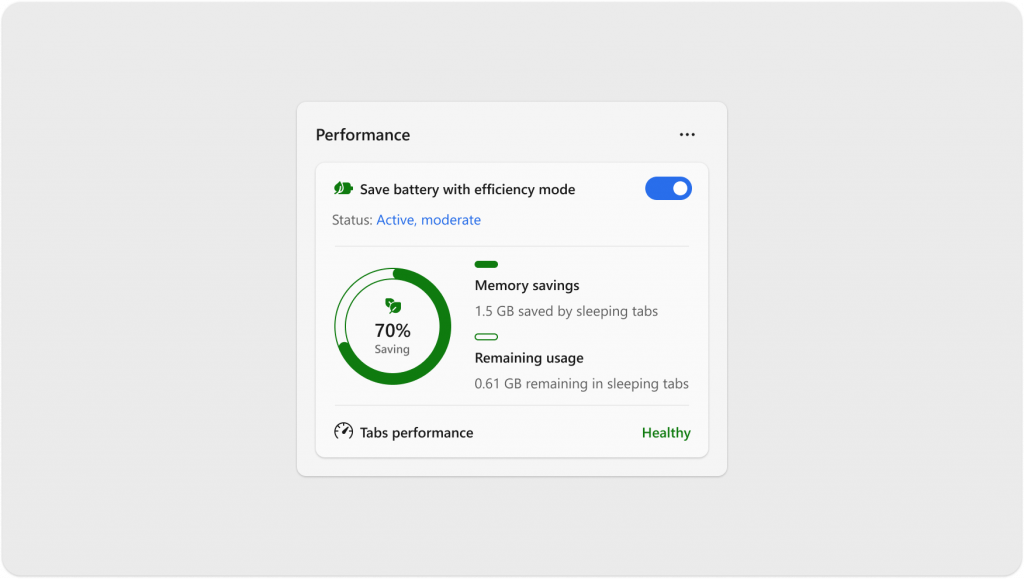 Safety
Everyday security as we browse on the internet is critical for all of us. That's why online safety reporting is built into Browser essentials.
Microsoft Edge uses SmartScreen's reputation engine to assure that what you click on is what you expect. We're constantly scanning sites and downloads for you, searching for possible malware.
Recommended actions
When the rare and unexpected issue prevents you from having a great experience, Browser essentials guides you back on track.
Performance Detector helps identify scenarios where browser performance may be impacted and recommends actions to you through Browser essentials that will decrease memory use or other resources. We expect to add more recommendations in the coming months.
When can I try this out?
Some of you have already started seeing Browser essentials replacing the Performance Hub in Edge 112 as we roll out into Canary and Dev. You'll know you've received the new feature when you see its heart pulse icon on the toolbar.
We expect to expand Browser essentials to a wider audience and add new features as we hear from you and respond to your feedback. Click the thumbs up 👍 or down👎buttons at the bottom of the Browser essentials pane and tell us what you think!