October 20, 2021
Introducing Android™ Apps on Windows 11 to Windows Insiders
Windows is a platform for creators
Windows is the most open platform on the planet for creators. Part of living our commitment to openness is welcoming partner technologies and content that deliver powerful experiences. And what makes Windows, well, Windows is the variety of apps available. So, with Windows 11, we announced a new Microsoft Store to showcase the best experiences from developers, a flexible and transparent commerce model, and the introduction of Android™ apps.
Today, we are announcing the first preview of our Android apps experience into the Windows Insider Program. We are proud to deliver this experience with our partners – Amazon and Intel – to Dev, Beta, and Release Preview Channel users in the United States on eligible devices running Intel, AMD, and Qualcomm platforms.
Experience Android apps on Windows for the first time
To dive in, open the new Microsoft Store and find a selection of mobile experiences that were not available on Windows before. These Android apps and games join our broader catalog, which has everything you are looking for – from core to casual games, sophisticated productivity suites to social experiences, creativity tools to niche hobbyist apps, and developer tools to entire virtualized environments.
Our new Microsoft Store search experience delivers the best results available, regardless of the technology used to build an app, because we are committed to offering you choice when more than one option is available. And when you're ready to download an Android app, the Amazon Appstore will guide you through the rest of the flow and get you on your way.
Running Android apps and games on Windows 11 will feel familiar, effortless, and integrated – just as you would expect. You can easily run these apps side-by-side with the help of the new Snap Layouts feature, pin them to your Start menu or Taskbar, and interact with them via mouse, touch, or pen input. Android apps are also integrated into Alt + Tab and Task view to help you quickly move back-and-forth between the apps that matter most to you. You can see notifications from Android apps notifications in the Notification Center or share your clipboard between a Windows app and an Android app. We have built the experience with accessibility in mind; many Windows accessibility settings apply to Android apps and we are working with Amazon to deliver more improvements.
We have partnered with Amazon and popular app developers to curate 50 apps for Windows Insiders to test and validate across a broad set of hardware. We will release new apps through Windows Insider Program updates in the coming months.
Here are a few examples of what you can try today:
Mobile games: Play some of the most popular mobile games like Lords Mobile, June's Journey, Coin Master, and more.
Reading: Enjoy reading your favorite book with Kindle, or a digital comic series with Comics on your Windows tablet and swipe pages with the ease of a finger.
Kids content: Teach your child math, reading, and writing skills with award-winning Khan Academy Kids, or build new digital spaces with Lego Duplo World.
Built on new Windows platform technology
To enable these types of experiences, we are introducing a new component on top of Windows 11 called Windows Subsystem for Android™, which powers the Amazon Appstore and its catalog. The Subsystem includes the Linux kernel and the Android OS based on the Android Open Source Project (AOSP) version 11. It is distributed through the Microsoft Store as part of the Amazon Appstore install, which will allow users to stay updated over time as we continue to add support for more APIs, capabilities, and scenarios. The Subsystem runs in a Hyper-V Virtual Machine, like the Windows Subsystem for Linux. It understands how to map the runtime and APIs of apps in the AOSP environment to the Windows graphic layer, the memory buffers, the input modes, the physical and virtual devices, and the sensors.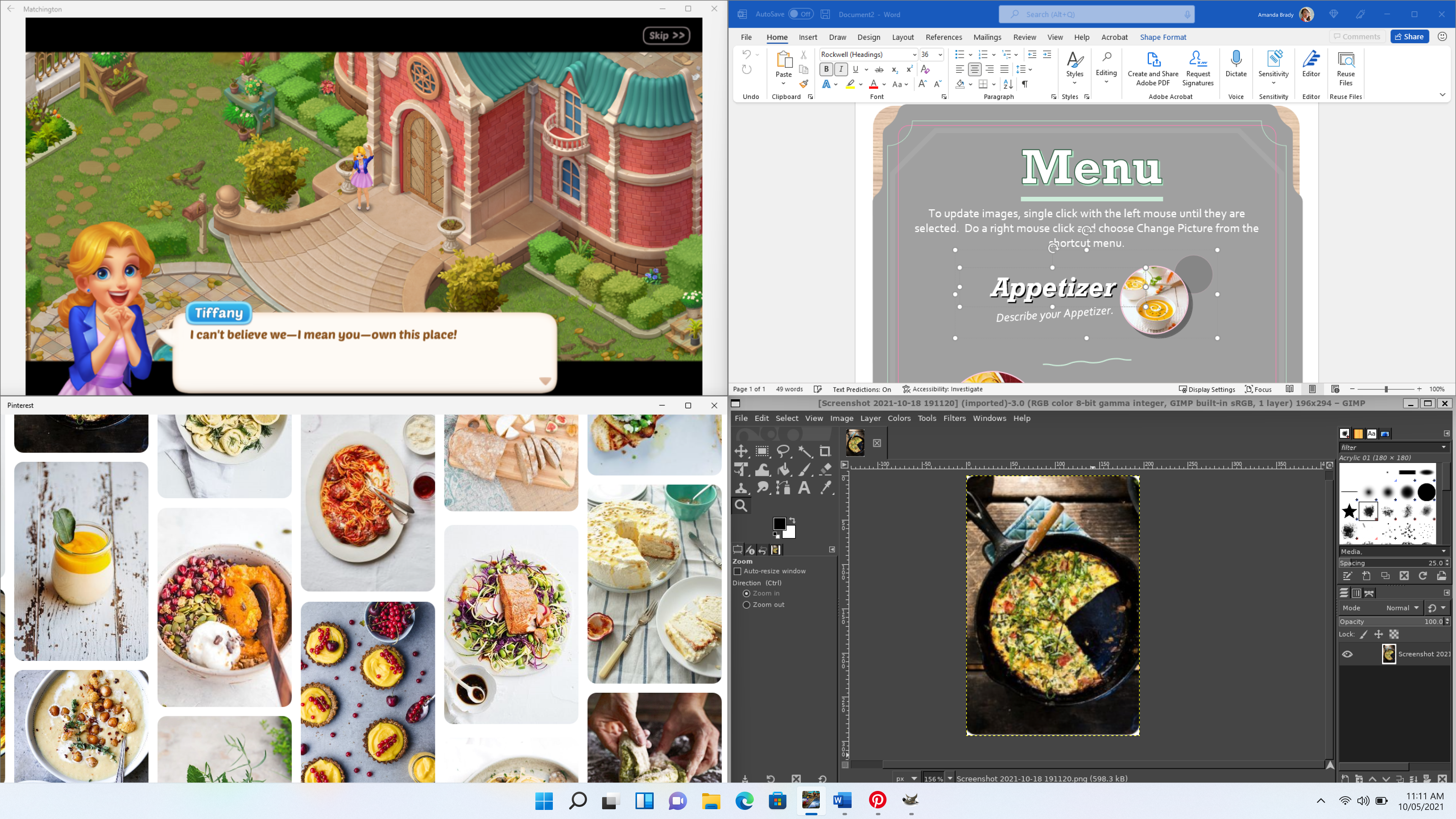 The Windows Subsystem for Android is available across the full spectrum of Windows processor types (AMD, Intel, and Qualcomm). We are partnering with Intel to leverage Intel Bridge Technology to enable Arm-only apps to run on AMD and Intel devices, enabling customers to get the broadest set of apps on the broadest set of devices. In order to provide a performant and secure customer experience for the Windows Insider Program, the Subsystem requires Windows 11 machines to meet minimum system requirements – and we will use this release to validate and adjust these requirements.
We are partnering with Amazon in engaging the developer community, and we will have more details to share about early developer programs to publish Android apps to the Amazon Appstore – for now, please visit the guidance from Amazon. Developers interested in publishing to the Amazon Appstore will get access to tools to debug and test their apps on Windows; and we are releasing a preview of those tools today. For more information, please visit our support documentation.
What to expect next
To get started with using Android apps on Windows, please visit our Windows Insider Program instructions. We invite you to help shape this product by sharing your experiences through Feedback Hub. We will continue to release updates to this experience through Windows Insider Program updates in the coming months.
Today's announcement signals new opportunity for developers and creators on Windows. To quote a close partner – today is Day 1. We are inspired by what we can create together.
Android is a trademark of Google LLC
Editor's note 10/20: Post was updated to reflect broader availability on eligible Windows PCs for the Kindle app.
Editor's note 11/4: Post updated to reflect availability in the Dev Channel.
Editor's note 1/26/22: Post updated to reflect availability in the Release Preview Channel.