Announcing Windows 11 Insider Preview Build 25941 (Canary Channel)
Hello Windows Insiders, today we are releasing Windows 11 Insider Preview Build 25941 to the Canary Channel.
REMINDER: As builds released to the Canary Channel are "hot off the presses," we will offer limited documentation for builds flighted to the Canary Channel including documenting only the most significant and highly impactful known issues. Please note that we will not publish a blog post for every flight – only when new features are available in a build.
Changes and Improvements
[Graphics]
In this Insider Preview build, you may notice that there have been some changes in the advanced display settings page via Settings > System > Display > Advanced display. Dynamic refresh rate can now be enabled via a toggle. After being enabled, Windows will then dynamically adjust the refresh rate up to the selected rate to help save power. Click here for more information on Dynamic refresh rate.
Additionally, we've made small changes to help bring awareness to limitations (related to the display or the cable being used) that may not allow you to set a high refresh rate while being on a high display resolution. When selecting a refresh rate, you may notice some refresh rates will show an asterisk. That means that in order to select that specific refresh rate, the display resolution will need to be changed to one that supports the selected refresh rate. This behavior happens when there are limitations due to the cable or the display's capabilities and is not new, but we wanted to make sure you were aware of it.
[Cast]
Building off the Cast improvements introduced with Build 25926, we have updated the Cast flyout in Quick Settings with additional support for you in case you face any trouble discovering nearby displays, fixing connections, and more.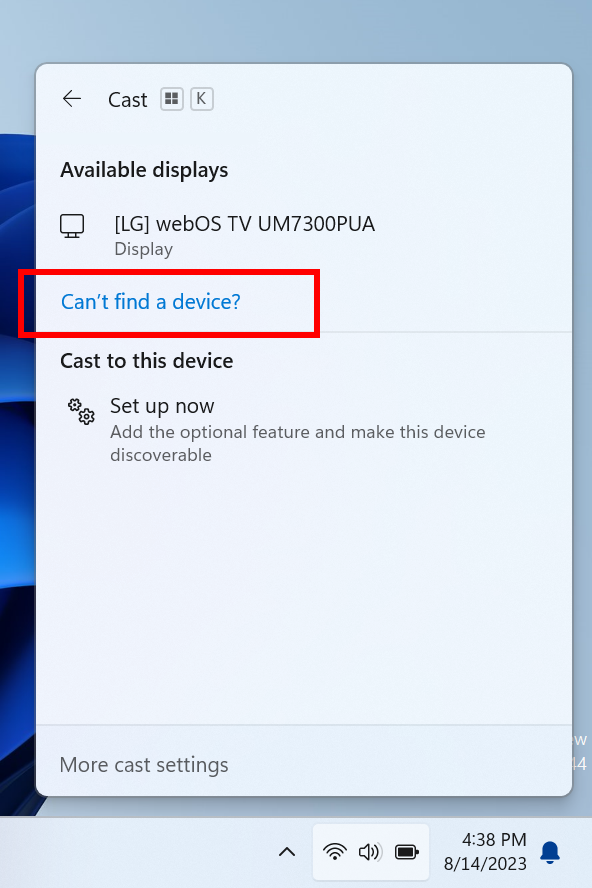 [Settings]
The graph at the top of the Power & Battery page in Settings has been removed. Insiders can continue to see a graph of battery usage in the battery usage section further down the page. The Power & battery settings page is also no longer broken up by "Power" and "Battery" sections.
Fixes for known issues
Fixed issues impacting the File Explorer context menu and command bar dropdowns, causing them to become transparent, and not work with touch.
Fixed issues impacting File Explorer launch reliability.
Fixed issues causing the Japanese and Chinese IMEs to not work properly in certain apps, and to not work correctly in the File Explorer search box.
Fixed an issue causing Settings to crash when looking at detailed battery usage.
The new options for tuning intensity and color boost of Color Filters now have labels.
For developers
You can download the latest Windows Insider SDK at aka.ms/windowsinsidersdk.
SDK NuGet packages are now also flighting at NuGet Gallery | WindowsSDK which include:
These NuGet packages provide more granular access to the SDK and better integration in CI/CD pipelines.
SDK flights are now published for both the Canary and Dev Channels, so be sure to choose the right version for your Insider Channel.
Remember to use adaptive code when targeting new APIs to make sure your app runs on all customer machines, particularly when building against the Dev Channel SDK. Feature detection is recommended over OS version checks, as OS version checks are unreliable and will not work as expected in all cases.
About the Canary Channel
The Canary Channel is the place to preview platform changes that require longer-lead time before getting released to customers. Some examples of this include major changes to the Windows kernel, new APIs, etc. Builds that we release to the Canary Channel should not be seen as matched to any specific release of Windows and some of the changes we try out in the Canary Channel will never ship, and others could show up in future Windows releases when they're ready.
The builds that will be flighted to the Canary Channel are "hot off the presses," flighting very soon after they are built, which means very little validation and documentation will be done before they are offered to Insiders. These builds could include major issues that could result in not being able to use your PC correctly or even in some rare cases require you to reinstall Windows. We will offer limited documentation for the Canary Channel, but we will not publish a blog post for every flight – only when new features are available in a build.
Our Canary Channel won't receive daily builds; however, we may ramp up releasing builds more frequently in the future.
The desktop watermark you see at the lower right corner of your desktop is normal for these pre-release builds.
Important Insider Links
Check out Flight Hub for a complete look at what build is in which Insider channel.
Thanks,
Amanda & Brandon