Size isn't everything. Unless you're packing a camera and your name is Dennis Manarchy. In a world where everyone's focusing on making cameras smaller, one of the world's best photographers is doing exactly the opposite. He is making one that's bigger. Much, much bigger. So who exactly is Manarchy and what's motivated him to buck the miniaturization trend so spectacularly?
The man
Raised in the Mid-west, Dennis Manarchy graduated in the 1960s, from Rochester Institute of Technology, with a Bachelor degree in Fine Arts. Afterwards he served an apprenticeship with the legendary photographer Irving Penn. He's won numerous awards for his work and been consistently ranked in the world's top 100 photographers and twice voted the world's top photographer. His work is currently part of permanent collections in the Museum of Modern Art and the Museum of Contemporary Photography.
The machine
When not winning awards, Manarchy has spent the last ten years building a massive 35-foot long camera by hand. The 'Eye of America' is 12 feet tall, 35 feet long and eight feet wide. It is the largest and most sophisticated in the world. The resulting negatives measure six feet tall and capture incredible visual detail, which even the latest digital photography can't achieve. Manarchy says, "When you get into the nuance of an iris, there's a billion tones of grey in there. This camera gives you a thousand times more detail." The huge negatives allow for 24 feet tall prints with such pristine detail that you can see the fleck of an iris, a single eyelash on a child's face or the individual pores on our skin.
http://youtu.be/v8LnbRgoE5E
The mission
So why go to all this trouble? Well, Manarchy is a man on a mission, as he told Nokia Connects earlier in the week. "Film is vanishing, our culture is vanishing, even cameras are vanishing." His desire to record a vanishing world on such a large scale might have something to do with his experience after returning from the Vietnam War. Anxious about returning to civilian life, he met a Lumbee Indian chief in a book store and after sharing his story, was invited to move in with the tribe. He lived with them for six months to re-adjust.  Now, with his project, Vanishing Cultures, he aims to capture not just native North Americans, but everyone from African American farmers to holocaust survivors and wing walkers in a year long tour of fifty states.
The mobile
He'll need a truck to pull the world's largest camera. But he'll also be taking another piece of revolutionary photographic technology, which will fit snugly in his pocket, the Nokia 808 PureView. Manarchy says he wants it to record fantastic photos quickly, without all the hassle of putting lenses on. Eager to document his project, he'll also be using the Nokia Rich Recording technology to record potential subjects. "It will help me do work in a minute, which would normally take me ten. It has a million uses for me" he says. "Because this project is all about the subject, the Nokia is going to be a real help.  You could take a snap shot of Marilyn Monroe or the best picture ever of my sister and put them on the market and you can guess what people are going to like best."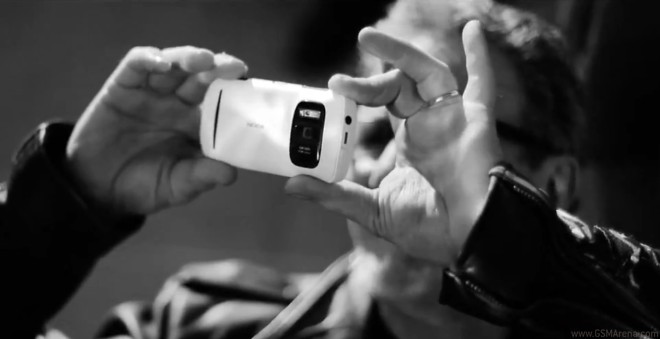 Manarchy might not get a snap shot of a Hollywood icon, but with the world's biggest camera and the Nokia 808 PureView, you can be sure he's going to take some pretty amazing pics. But what would you shoot if you had a day with the "Eye of America"? Let us know about your dream big picture here or at @Nokia Connects